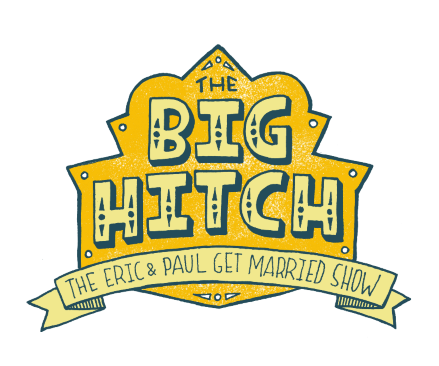 THanks to all our friends and family!
On August 3, 2013, a 22-year engagement came to an epic end as Eric Lane Barnes and Paul Rosenberg got hitched for reals
.
This was no conventional wedding by a long shot. It is, in fact, a full-blown entertainment starring more than 20 luminaries from near and far, singing, playing, dancing, acting, stripping, toasting and roasting the grooms.
The Big Hitch was presented at The Triple Door in downtown Seattle and was be open to the public! Performers included Lisa Koch, Captain Smartypants, Sydni Devereaux, Jeanette D'Armand, Brenda David, Alyssa Keene, Lee Bocklund, Alyssa Keene, The Betrothed Themselves; and surprises and embarrassments up the ying-yang.
Thank you for being part of this incredible event!
Here are some links you should click on:
Tune in in June 2014 for The Rosenbarnes Honeymoon!